Details
Similar products
Info
Opinions
Alkalom, funkció.
Anyag
Details
Késztermék, azonnal szállítható

Letisztult és finom egyszerre ez a locsolóknak szánt tojás szett.
Fehér színű, lúd tojás méretű tojások, gyöngytyúk toll mintával díszítve,oldalán fonott natúr zsinórral.
A szett 2 db tojásra vonatkozik.
A minták különbözőek és mindkét oldalon vannak.



Similar products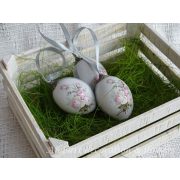 Info
Status
Kiemelt Raktáron Szállítható
Opinions
Be the first to review this product!
Alkalom, funkció.
Húsvétra
Locsolóknak
Barka fára dekoráció
Anyag
Poliuretán
Matt festék
Matt lakk
Zsinór
Decoupage papír